Microbiology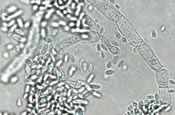 SGS Forensic Laboratories (SGSFL) has been offering services in the field of microbiology for more than 10 years. With service offerings that include fungal, and bacterial analyses, we provide a comprehensive solution to your microbiological requirements.
SGSFL has been providing microbiology laboratory solutions to over 5000 entities including insurance companies, attorneys, facility managers, public agencies, schools, restoration professionals, and homeowners. Our group is comprised of a Ph.D. mycologist and an extensively trained staff that is highly skilled in handling microbiology projects cost-effectively and professionally. Known throughout the industry as a leader in customer service, SGS Forensic Laboratories remains committed to providing the highest quality service at very competitive rates.
Supervised by a Ph.D. mycologist, each microbiologist's focus is on the quality and integrity of the data, from sample preparation to analysis to final reporting. The staff's extensive experience and familiarity with both routine and difficult samples ensure that clients receive the most accurate data possible. Our laboratory's devotion to quality is reflected in our becoming one of the first facilities to be accredited by the American Industrial Hygiene Association Environmental Microbiology Laboratory Accreditation Program.
Service Offerings
Bacteria
MPN/MUG
Legionella
Who We Serve
Industrial Hygienists
Restoration Professionals
HVAC Cleaning Companies
General Contractors
Schools
Public Health Officials

Building Management Companies
Insurance Companies
Maintenance & Facility Managers
Attorneys
Government Agencies
Building Owners
Mold Contamination Training
We have provided basic training on mold contamination to over 1000 professionals seeking to better understand and resolve the problems resulting from water intrusion. Specific topics that are commonly covered in our training programs include:
Basics of fungi
Fungal identification
Sampling & investigation strategies
Building engineering
Health effects & toxicity
Moisture intrusion
Data interpretation
Remediation & abatement tools
Litigation
If your group is interested in a tailored training session on mold contamination, please contact us at any of our locations.